Garage Door Repair in Browns Mills, New Jersey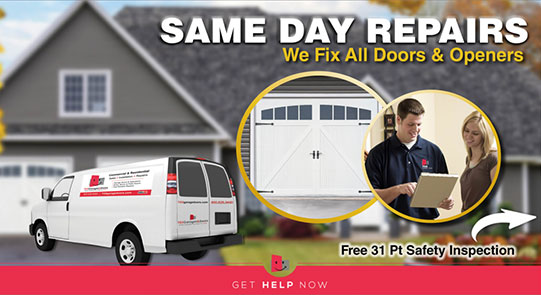 What We Do
At TGS Garages & Doors, we service, repair, replace, and maintain residential garage doors. We have been helping the residents of Browns Mills, New Jersey with garage door issues for years. Whether your automatic garage door opener needs repair, or the garage door springs need replacing, we do it all. We will come to your home in a timely manner for garage door service.
We even offer customers an entire showroom of brand new garage doors. Periodically garage doors do need to be replaced, and we understand that accidents happen. To make your new garage door into a reality, we will help you choose the style, size, color, and the time in which you would like it installed. TGS Garages & Doors is truly a full-service garage door repair service!
Why You Should Service Your Garage Door
The garage door is the biggest moving part of any home. More than 70% of homeowners utilize their garage door as the main entrance to their home. Imagine what would happen when the garage door breaks down or begins to malfunction? With such consistent use it is not a matter of "if" but a matter of "when." Regular repair and maintenance will ensure that a garage door is more functional for a longer period of time.
Broken or malfunctioning garages can occur on any given day. Without the proper know-how it might be difficult and dangerous to get your garage door back into working shape. TGS Garages & Doors employees professional garage door servicemen that have years of experience with repair and maintenance of garages doors. Hiring professionals to fix your garage door in Browns Mills, NJ will also decrease the possibility of bodily harm from torsion springs or from the garage door falling off the tracks. Garage door spring repair should always be complete by professionals.