Garage Door Opener Repair in Fort Dix, New Jersey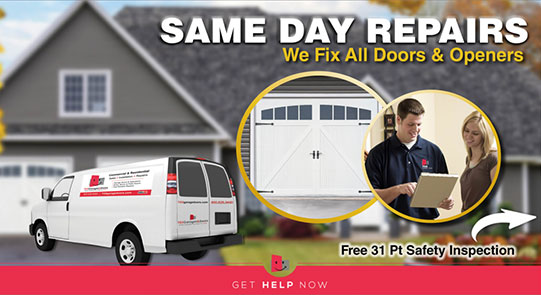 What We Do
TGS Garages & Doors specializes in garage door service and repairs. We make it easy for the residents of Fort Dix to find professional and reliable garages door services regardless of the day or time. As a Top Rated Local® Garages & Doors company, we offer outstanding services from garage door spring repair to garage door opener repair. We understand that many homeowners do not have the time or experience necessary to troubleshoot problems with the garage door or its many components. Our professional staff with come to our customers home for same day repairs and maintenance:
Broken or stretched torsion springs
Broken or damaged sensors in the automatic opener aor at the foot of the garage door
Broken or frayed cables
Broken locks
Broken or malfunctioning cables
Warped, rusted, or cracked tracks
Stuck doors
Doors that will not go up or down
Total hardware overhauls
Replacing broken, warped, or rotted garage door panels
Abnormal movement of the garage door; jumpy, shaking, squeaking, scraping, etc.
Human "oops" moments involving the garage door
Our professional staff can also help our customers in Fort Dix choose a brand new garage door. We understand that there is a specific look and budget that each customers is looking for, and we can make that happen. We'll bring samples and pictures to the home of our clients for easy matching.
Why You Should Service Your Garage Door
Servicing the largest moving door of a home is necessary to keep it functioning properly. With normal use it is only a matter of time before a garage door will need maintenance. Forgetting or foregoing routine maintenance and service will lead to broken or malfunctioning doors. Once a door malfunctions, won't open, or won't close other problems may arise.
Broken garage doors may be a normal aspect of life but they do not have to ruin someones day. Ensure that your belongings stay safe, make sure that you make it to work on time, or can use the garage door as an entrance into your home with proper maintenance and repair services from TGS Garages & Doors.
Call TGS Garages & Doors Now for a FREE WRITTEN ESTIMATE
(800) 644-5207