Garage Door Services For Red Bank Residents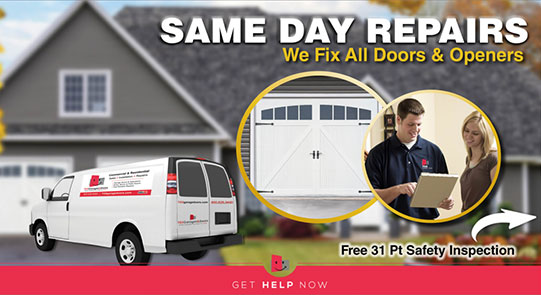 Garage Door Repairs And Replacements In Monmouth County
If you live in the Red Bank area, chances are that you've seen what our coastal moisture can do to metals. One such issue can arise in the garage door parts that keep your home secured against weather and unwanted intruders. Rust and corrosion can work together to create a variety of problems with your overhead door system. When this happens, it's important to contact TGS Garages & Doors in order to receive the best garage door repairs in Red Bank. We're proud to offer quality garage door services to Monmouth County and beyond. No matter what you need, we'll happily provide top-quality assistance in order to deliver service that makes you smile!
The Benefits Of Our Garage Door Repairs
There are so many positives that come with our Red Bank garage door repairs that you'll have a hard time going anywhere else! TGS is proud to offer our services to provide you with:
More comfort. Overhead doors that do not shut properly can create a major barrier issue against the outside elements. When your garage is not properly shielded from extreme temperatures, the inside of your home can suffer. Our garage door repairs can restore comfort and save on energy bills.
Better security. Garage doors that do not operate correctly can equate to serious security concerns. If your door can't deter an intruder from entering, your home and family may be at risk!
Peace of mind. Safety is our top priority here at TGS, and our team strives to bring peace of mind to you and your loved ones. With guaranteed services and an unbeatable warranty, you can sleep easy knowing that everything is adequately covered.
Optimal assistance. Our commitment to ultimate satisfaction ensures that your investment in a new garage door or subsequent repairs is protected at all times.
Better value. Our experts aim to provide quality garage door services that supply you as our valued customer with efficient, affordable results. The end result is an improved overhead door and a boost to your home's value. Optimizing our services will help to optimize your return on investment.
Delaying garage door repairs for your Red Bank home can prove to be very costly! TGS is here to help you with every aspect throughout the process, from our safety inspections to full garage door installations and more, our licensed technicians are ready to help. TGS also comes with a 100 percent satisfaction guarantee, so there's nothing to lose. Contact us today to see which garage door services can help your home!