Garage Repair Services in Hainesport, New Jersey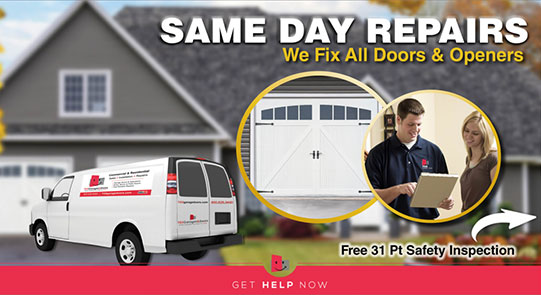 What We Do
TGS Garages & Doors is a fully service garage door service and repair company. We help the residents of Hainesport, New Jersey with repair and maintenance services. There is no garage door related problem that we cannot solve from garage door opener repair to garage door spring repair, our professionals can do it all. We also offer 24 hour emergency services because not all garage related problems occur during normal business hours! Here are some of the amazing services that TGS Garages & Doors offers to the residents of Hainesport, NJ:
Broken, damaged, or stretched torsion springs
Broken or damaged sensors in the automatic opener or located at the foot of the garage door
Broken garage door locks
Cables that are broken or frayed
Warped, rusted, or cracked tracks
Garage doors that are stuck closed or open
Doors that will not go up or down
Total hardware overhauls
Replacing broken, warped, or rotted garage door panels
Abnormal movement of the garage door; jumpy, shaking, squeaking, scraping, etc.
The accidental "oops" moments
TGA Garages & Doors can also help homeowners update their old garage doors! We will bring samples, pictures, and information to our customers to make the choice as easy as possible. We know that style and price are everything, so we can meet all of our customers expectations!
Why You Should Service Your Garage Door
The garage door gets a lot of use in the normal household. It is the likely that it is the largest moving component and the most frequently used door in the home. As such, the garage door may break down if not properly cared for throughout the year. Proper garage door service and repair also ensure that small problems do not become big, expensive problems a few months down the road.
Call TGS Garages & Doors Now for a FREE WRITTEN ESTIMATE
(800) 644-5207