Garage Door Repair in Middletown, New Jersey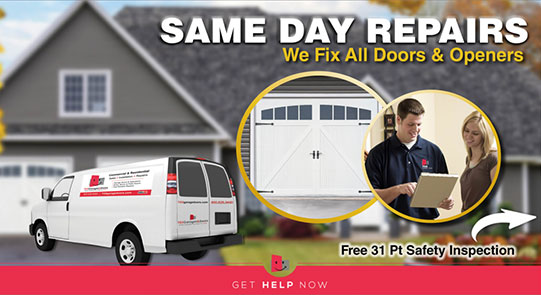 What We Do
TGS Garages & Doors can help you any garage door repairs. If you need your garage door opener, we can repair it for you. Do you need a new garage door on your house? We also complete residential garage door installations. The garage doors we have for you to choose from will add to the safety of your home and the beauty of the curb appeal.
We know your garage door is a vital piece in the security of your home, so if you have an emergency and need your garage door installed or repaired in the same day, contact us! We offer same day repairs and installation at no additional charge, 24 hours a day, 7 days a week.
Why You Should Service Your Garage Door
Keeping your garage doors functioning well requires a bit of regular attention. If the tracks get dirty or wheels get caked with muck, it can throw the whole operation of the garage door off. Garage doors are fragile and weather, accidents and jams can happen.
Have TGS Garages & Doors come out for your regular garage door maintenance, garage door repairs and for garage door opener repairs. We will do an 18-point inspection, check the sealing, make any adjustments, grease the rails and moving parts, balance the door and add lubrication where needed to keep your garage door working well. Without this regular maintenance, your door's life may last a long time, but it will last longer if treated well and cared for to keep its performance up to par. Buy our TGS Garages & Doors warranty and save on parts and labor, giving you peace of mind for your home.
Expert Garage Door Repair in Middletown, NJ
If you live in or around Middletown and you need fast, friendly, and quality service on your garage door, look no further than TGS garages and doors. Our professional technicians have years of experience performing even the most complex garage door repair in Middletown, NJ. We can fix broken tension springs, busted slats, and even openers that simply won't work whether you call us during business hours or in an emergency. TGS Garages and Doors serves both residential and commercial clients, and no garage door repair in Middletown, NJ is too much for us to handle.