Garage Door Service in Tinton Falls, New Jersey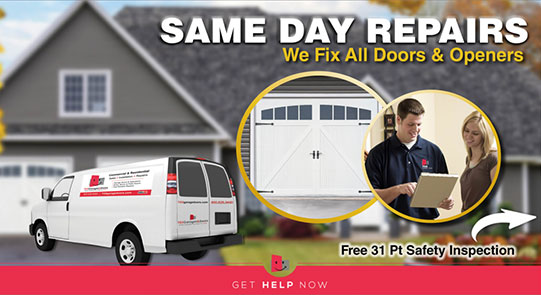 What We Do
The summer and winter months can bring brutal weather with extreme temperatures in Tinton Falls, NJ. Your garage door will help make the days of scorching highs and freezing lows more tolerable. Make sure your garage door is working well with regular service from us at TGS Garages & Doors. We will come out and repair your garage door opener or the door. If you need a new garage door, our residential garage door installation technicians can come and install one.
Our certified technicians can address your garage door needs 24 hours a day. We always have someone ready to answer your call. We understand your need for having a functioning garage door. Just call and schedule an appointment with us at TGS Garages & Doors.
Why You Should Service Your Garage Door
Garage doors are an investment. Having a residential garage door installation isn't some thing homeowners will have done several times in the life of the home, unless there are accidents or damage done to the door. It is typically something that is done once and maintained. Our garage door service can help prolong the life of your garage door and garage door opener.
Having regular maintenance will help to reduce the garage door opener repairs. If your door is working properly, it will keep everything working well. It's important to keep the tracks well-oiled and clean, keep the door balanced and keep all the bolts and connections tight. When these things are done, your door and opener will last. Our technicians come and make an 18-point inspection, taking care of your door and your opener so you can count on the door working every time you push the button without thought.