Garage Door Service in Woodbridge, New Jersey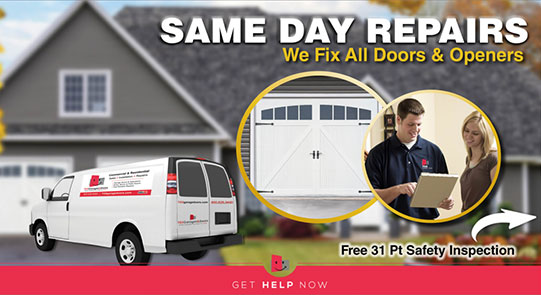 What We Do
When your garage door stops working properly, it can be very frustrating. It usually happens at the worst possible moment too. We understand this at TGS Garages & Doors. Our garage door maintenance and service is available 24 hours a day. We work to provide you with the best in customer service, maintenance and products. Our technicians offer residential garage door installation so you can improve the exterior appearance of your home, insulate your garage for comfort level or to replace the old garage door that was installed when the home was built.
Give us a call for a free estimate on your garage door service, installation or garage door maintenance. Warrantee your garage door and repairs for as low as $19.95 and save on parts & labor under the TGS Garages & Doors warranty.
Why You Should Service Your Garage Door
All the work done by our certified technicians is guaranteed. Garage door service in the Woodbridge area offers customers with a thorough inspection, cleaning and balancing to make sure your garage door will work well for the long term. As garage doors age and are used, parts can become out of balance and mucky.
Our technicians will grease rails, tighten bolts and connections, balance the door, rewind torsion springs and more so your garage door will keep working for years to come. We will even check your garage door opener to make sure it's working well. Garage doors aren't cheap. Protect your investment through proper garage door service and maintenance. Schedule a service today!