ProVia Entry, Storm & Patio Doors
Best Quality! ProVia Entry, Storm & Patio Doors
ProVia is nestled within the rolling hills of Sugarcreek, Ohio, the heart of the nation's largest Amish population. The company has grown into a nationally known manufacturer of high quality entry door systems. ProVia has built a reputation in the building products industry for quality, old-world craftsmanship and personal care for customers, which extends to every part of our culture. We are proud that our experience, exceptional customer service and ability to deliver on-going value has afforded us a strong partnership with ProVia. 
TGS Garages and Doors specializes in doors of all types, so if you are looking for the perfect garage patio door, we can provide it, install it, service it, and even repair it down the line. Our Provia patio doors are by far our most popular options, and we provide some of the best Provia storm doors prices in the area. You can check out our amazing selection online via our Provia doors catalog. To schedule your installation, feel free to contact us right away. We will install your quality door quickly and at a very competitive price.
---
Door Options
---
Available in unlimited combinations and styles, our entry door lineup consists of classic steel or 'real wood' fiberglass. The steel entry doors are exceptionally strong and durable without sacrificing beauty. Our fiberglass entry doors lead the industry in beauty and durability with the look of real wood.
---
Storm Doors protect your home from the elements with elegance. Every storm door is constructed with tempered safety glass and a durable finish. All storm doors have a Lifetime Limited Transferable Warranty.
---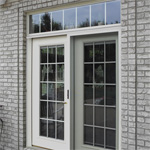 Let the light into your home with a new patio door. Choose from the classic charm and strength of the Designer Patio Door System or the energy-efficient durability of Prestige Vinyl Patio Doors.
---
Exceptional Customer Service:
We know how busy you are and how valuable your time is so we make the design process easy and convenient. We start with knowledgeable customer care reps who are available when you are, design consultants who bring the showroom to the convenience of your home and back our process and products with our "exclusive no-risk guarantee".
Knowledgeable Customer Care Reps
Your experience starts with knowledgeable customer care reps who are standing by to provide support and schedule appointments until 9PM, even Saturdays : ) They put you at ease by answering questions, providing product information and asking relevant questions to help you define your goals and priorities.
Let us bring the showroom to you
Our experienced design consultant will:
Take a photo of your home and use our innovative software to help you design and visualize the perfect entry door in real time. All of this is done from the convenience of  your home, where you can see the nuances that might impact your decisions.
Provide a showroom experience with actual entry door material samples, different insulation options, window designs, color and glass samples so you can see, touch and feel your selections from the comfort of your own home.
You can even jump on door panels to check out the quality and durability.
Exclusive No-Risk Guarantee
 We earn your business through products, services and prices so good, we guarantee them. Learn More
Call or Email Now! (800) 644-5207 | customerservice@tgsgaragedoors.com
Free Written Estimates | Price Match Guarantee | Certified Technicians